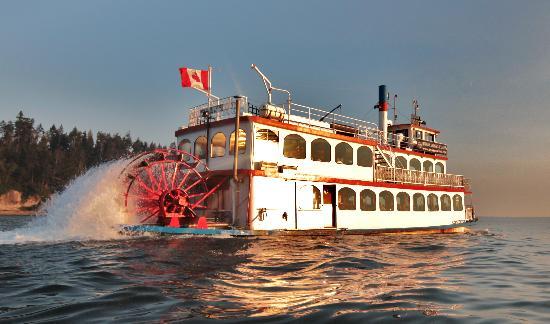 Paseo en el Barco con Cena Buffet
Estimados Socios y amigos:

La SEBC se complace en invitarles a una cena buffet a bordo del MPV Constitution, el Sábado 19 de agosto, 2017.  
Lugar: 501 Denman street Vancouver BC,  tel. 604 688 7246
Hora de embarque: 6.00 pm.  Zarpado: 6:30 pm – Regreso: 9:30 pm
El precio del evento será de $20.00 socios  y $45.00 no socios.
Por motivos de seguridad y regulación, este evento está dirigido única y exclusivamente a adultos.
Hagan sus reservas llamando a: 
Maria del Pilar Herguezabal Tel: 604 439-7605
El pago se podrá efectuar a través de paypal aqui:
o enviando un cheque a nombre de:
Sociedad Española de British Columbia
Box 28052 West Pender St. PO
Vancouver, BC V6C 3T7
Fecha límite para hacer reservas: 15 de agosto, 2017. El barco cuenta con una capacidad máxima de 80 personas.
~ Prospect Point Banquet Menu ~
(Single or Dual entrée buffet style dinner)
Freshly Tossed Garden Salad Leaves with Herb Croutons & Chef's Dressing
"Pesto" Pasta Salad with diced Tomato, Scallions
***
Baskets of Dinner Bread Rolls & Butter
Entrée'
Slow Roasted Top Sirloin of Beef "Au Jus"
(Carved at the buffet with hot horseradish & mustard)
And/OR
Fillet of Fresh Salmon with a Citrus & Herb Butter
(BC Salmon with fresh herbs & lemon/orange flavoured butter)
***
Baby Potatoes Roasted with Oregano & Sea Salt
Medley of Market Fresh Vegetables
***
Rich Chocolate Decadence Cake
Freshly Brewed Coffee & Teas
Cash Bar
¡Esperamos verles a todos! 
Comments